Because of the currently circulating Coronavirus, everyone knows what it means to feel threatened and how grateful you are for helpers in need.
One of them is Heiko Hentzschel (36 years), who does a full-time job in our work preparation and has also been volunteering with the volunteer fire department in Doebeln for 28 years. Heiko started in the youth fire brigade at the age of 9 and has been in active service since 2001. In the meantime, he has held a leading position as supreme fire chief.
We asked ourselves what it is like to do both with your heart and went into it. Heiko is known to us for his very good number memory and his concentrated and quick implementation of innovations, be it in working papers or when programming machines.
How does it now feel when the message is received via the pager at the workplace and you are mentally snatched from the current task? A decision is then made depending on the situation and the alarm keyword. However, if there is an important issue at MSK Matec, you have to ponder the decision. Then it depends on whether he is on duty as a station officer or as a "normal" task force. As the platoon leader and "chief" of the troop, other thoughts go through your head. In this function, you also act as a contact for all authorities, such as the police and the German Red Cross. In addition to Heiko, this function is supported by seven other people in Doebeln. Responsibilities are changed on a weekly basis so that the train drivers are stored in the roster according to availability. As a station officer you have your own vehicle with driver. The vacation is taken into account in the form of a vacation list.
The path to becoming a leader is via various courses and exams. Everyone starts with basic training that always takes place over the weekend for 8 weeks. Building on this, there are various additional training courses at the state fire brigade school, from which the relevant qualifications are then acquired. The various courses can last from a few days to 2-3 weeks. Prerequisites for promotion to the next rank depend on various courses and years of service with the fire brigade. Qualifications and suitability therefore play an essential role in the career of the fire brigade.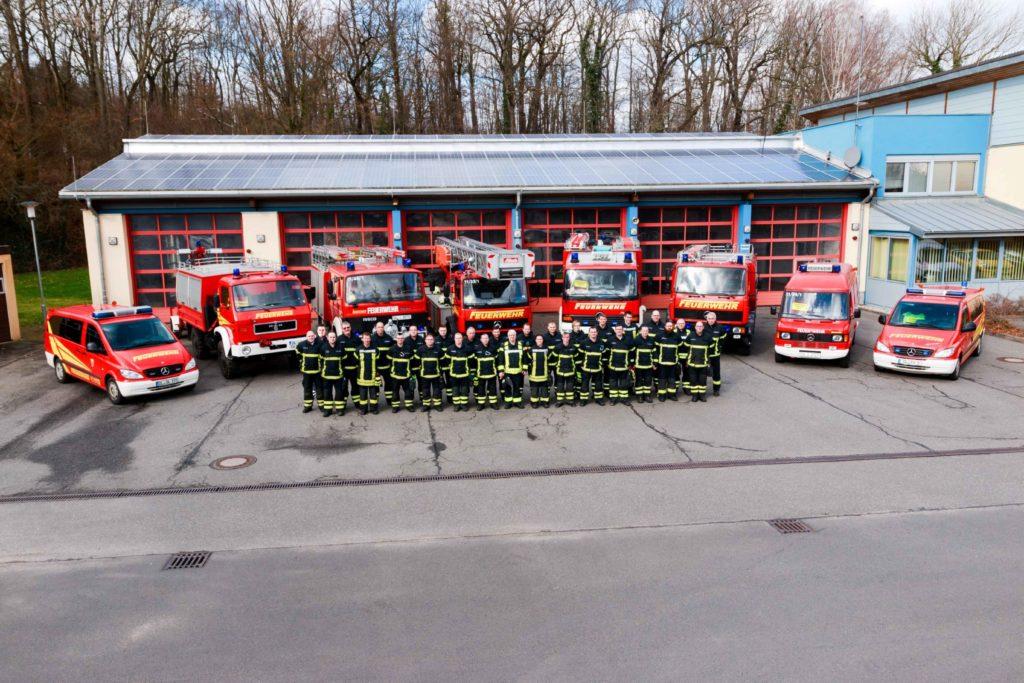 Around 60 members between the ages of 18 and 65 are volunteers at the local fire brigade in Doebeln. Nine vehicles are available, from fire trucks to team transport vehicles. The question that concerns us all at this time is how to deal with a virus case like the current Corona. Basically, Heiko thinks that hygiene has always been closely observed. At the moment there are no trainings that would otherwise take place weekly. Only alarm services are perceived. Protective masks are put on, depending on the application, sometimes only sewn, and are handled with extreme caution.
There are missions that you won't forget so quickly, for example, where as a team you can get one or more people out of your predicament, in the event of a fire or traffic accident. Of course, missions also get stuck where they unfortunately can't make it. Then there is the possibility to request pastoral care, the so-called Crisis Intervention Team. However, an exchange between comrades is often enough. In such a case, younger colleagues talk more intensively.
This also makes it possible to clear your head relatively quickly and return to work at MSK Matec. The issues at hand also create distraction and an immediate return to work. Sometimes nothing happens for a whole week, and on other days the alarm is triggered three times. In the past year alone, the fire brigade Doebeln was called to 244 missions.
In addition to Heiko, we have four other volunteer members who work with fire departments. Besides, many of our colleagues are also involved in other volunteer work, be it as a handball coach, in the young community (church), as football team supervisor and in civil protection. We support our colleagues in the exercise of volunteer work and are proud of the services they also perform outside of MSK Matec.