Manufacturing plastic products by injection moulding
Injection moulding is one of the most common and versatile plastic manufacturing methods. MSK Plast has almost 50 years of experience in manufacturing plastic products by injection moulding. Expertise in the technology and various plastic materials and moulds is the key feature in the manufacturing of high-quality and durable plastic products.
Plastic injection moulding is used when the annual volumes are large. The optimal injection moulding volume ranges between thousands and hundreds of thousands or even millions of products. In MSK Plast injection moulding, the size of the pieces usually ranges from one gram to a few kilograms.
By means of injection moulding, a large selection of plastic parts of various shapes and sizes may be manufactured. The plastic parts tailored according to customer needs will be optimised in conjunction with the customers. The injection moulding technology also allows for a versatile product selection, which also contains parts which are technically the most demanding. Currently, MSK Plast manufactures more than 2,000 different plastic parts.
Injection moulded plastic products for exacting industrial needs
Injection moulded plastic products are manufactured particularly for demanding technical applications for industrial use, for instance for the electronics, automotive or technological industry. The materials for injection moulded projects are selected according to the current product requirements, such as fire protection requirements, mechanical resistance, UV resistance, laser marking and conductivity.
MSK Plast flexibly manufactures custom-made high-quality comprehensive plastic parts and plastic products for industry, always according to customer requirements. We also supply all reports required by the customer, such as PPAP approvals, 3D measurement reports, Cpk runs and Run&Rate reports. In addition, we will acquire the exacting automotive industry IATF16949 certificate to support our quality assurance.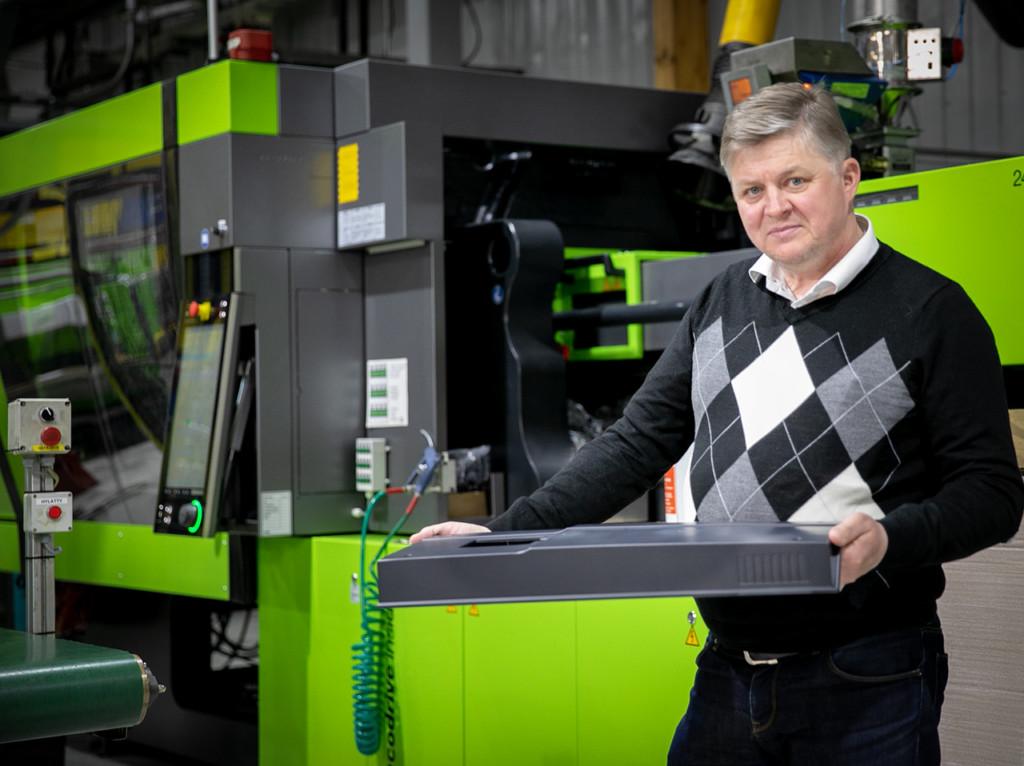 Top competencies for injection moulds
In the injection moulding process, plastic parts are shaped in a mould manufactured for a specific product according to customer needs. For plastic products manufactured by injection moulding, molten plastic mass is injected into highly durable steel moulds using a high pressure.
Our motto is that the finished product can only be as good as the mould used to manufacture it. For this reason, we have refined our mould-making competencies to an optimal level over the decades. Moulds are manufactured according to customer requirements in conjunction with the MSK Plast collaboration network.
Through us, it is also possible to carry out Mold-Flow and DFM analyses. By means of the analyses, it can be verified already at the planning stage what types of distortions, flow marks, weld lines and suction may appear in the project during the injection moulding process. The analysis carried out through Mold-Flow saves resources in the manufacturing process and results in more fluent manufacturing.
Extensive expertise in plastic materials at the core of injection moulding
Manufacturing plastic products by means of injection moulding also allows for the versatile use of various plastic materials. Injection moulded pieces are made from thermoplast. The most common plastic materials include ABS, polyamide (PA), polypropene (PP), polycarbonate (PC) and polyethene (PE).
MSK Plast uses hundreds of different technical plastic materials and has an extensive international supplier network, through which it has access to all plastic materials which meet customer requirements. In terms of raw materials, almost all global trade names are available through us; our well-known clients include for instance DuPont, BASF and LG Chem.
In addition, we provide our customers with many different further processing services such as laser marking, printing, EMC coating, plastic welding, sealing and painting, as well as versatile assembly services, up to ready-made sales packaging.
Environmentally friendly injection moulding production
MSK Plast follows the principles of sustainable development in its operations. In injection moulding production, we pay particular attention to features such as energy efficiency, environmental friendliness and the reduction of CO2 emissions. Injection moulded products are recyclable, and in addition, we may use biodegradable and bio-based plastics.
Injection moulded quick moulds and proto-models
Through our subcontracting network, we can also provide quick moulds and models for customer needs.
We can provide quick models using various different technologies, such as 3D printing, SLS and SLA technologies, silicone moulds, CNC machined quick models and various small runs by means of proto-moulds. At best, the delivery time of parts manufactured using complicated quick moulds is only a few weeks.
Quick moulds made from metal may be used to manufacture thousands of plastic parts. By machining and by means of silicone moulds, smaller series of a few dozen products are usually made.
Why select MSK Plast as the manufacturer of injection moulded plastic products?
We have several decades of extensive experience in manufacturing plastic products by injection moulding.
We have extensive experience in plastic materials and moulds used for injection moulding.
Our company is a comprehensive operator which manages the entire customer project from beginning to end. Will always provide our customers with a comprehensive package.
Strong in-house competencies in our tools department, for instance in the maintenance, modification and repair of injection moulds.
We follow the principles of a circular economy and ensure features such as the minimisation of CO2 emissions in injection moulding.
We have a very extensive collaboration network. Through us, you will find extensive competencies for both planning and further services.
We have strong quality-process competencies in demanding customer interfaces.
Our injection moulding technology has the trust of our customers such as Valtra, ABB and Valmet Automotive. Read more about our customers >
In injection moulding plastic parts are formed with a mold according to each customer's needs. This enables a wide product variation, including the most technically demanding parts. Injection moulding is also a suitable process for small components produced in large quantities.
"
Our injection machinery is automatized effectively and reaches a closing force up to 800 tonnes.
Minna Hauhtonen
Quality Manager, MSK Plast